At the sight of a puppy parent walking their little one down the street, stopping yourself from getting your hands on a furry friend of your own seems almost impossible. All at once, you start looking forward to cuddles and lazy bonding time, playing catch in the park, and enjoying long car rides together. While a puppy may seem like a perfect new addition to your family, you should first ask yourself, "Am I ready for a puppy?" Review these three considerations before taking a deep dive into puppy parenthood.
Do I Have Time?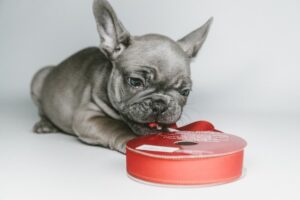 Your new puppy won't know the rules of the house for a while and will require significant training and attention before getting settled into a routine. Taking care of a puppy is a huge commitment; you'll need to wake up for early morning walks and veterinary appointments, even if you're exhausted from back-to-back meetings at work or recovering from a cold. And if you have tiny humans at home, they'll need to adjust and take time to learn how to interact with the puppy, as well.
Have I Done My Research?
Not only do puppies need your care and attention as they grow and learn, but they're a considerable financial investment, as well. First-time puppy owners will need to take extra steps to review the necessary vaccinations and when they should be scheduled, the best brands of food on the market, nearby vets, and, potentially, pet insurance.
Am I Active Enough?
Puppies have tons of energy and need to be constantly engaged to burn it off. If you aren't attentive enough or can't spend much time outdoors together, your puppy may grow bored—which can lead to unwelcome mischief. Adequate exercise will keep your puppy happy, healthy, and best of all, sleepy! Playing together and going out on the town will also introduce your pup to new sights, smells, and aid socialization. Being out and about can also help with getting used to unfamiliar noises and becoming more comfortable with the collar and leash. If you're a frequent traveler, consider taking your puppy on your next adventure.
Looking for puppy love? Lindor French Bulldogs can help you find your perfect puppy match for life. Our family-run breeding operation has a multitude of purebred French bulldog puppies ready for their new homes. Learn more about our available Frenchies by calling (904) 395-5916 today.