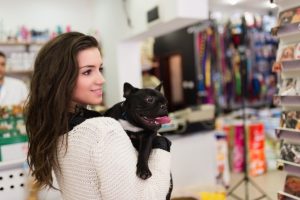 Adopting a French Bulldog puppy is a lot of responsibility, just like any other type of puppy. Aside from feeding, playing, walking, and giving them all your love, puppies also need to be kept safe. Your Frenchie will need a collar, harness, and leash both for identification purposes and to ensure their safety. Finding the perfect leash, harness, and collar combination for your Frenchie can be overwhelming with all of the choices at the pet store. Here are a few tips for choosing a collar and leash for your French Bulldog Puppy.
Comfort
Your new French bulldog puppy has to wear the same collar every day, so you want to make sure it is comfortable for them. Their harness will also be worn quite frequently, so finding the perfect fit is essential. When choosing your collar, feel the material on the underside where it touches your dog's neck. If it feels comfortable on your skin, it will be suitable for your Frenchie. Avoid anything with ridges along the underside that can irritate.
Because of their shape and tendency towards respiratory problems, you will need to walk your Frenchie with a harness. Attaching the leash to your Frenchie's collar will put too much strain on their neck and make it hard for them to breathe. Make sure the harness is also soft on the inside so that it feels comfortable for your puppy to walk in. Be sure to check the fit before bringing it home. It can help to bring your puppy to the store with you.
Durability
Your puppy will be wearing their collar 24/7, so it needs to be able to stand up to everyday wear and tear and other environmental factors. You should also choose a sturdy leash to match the collar. Frenchies may be small dogs, but they can still do a number on a leash over time.
Style
There are tons of styles and colors available for leashes, collars, and harnesses. You can choose to coordinate everything or get funky with it.
Lindor French Bulldogs is a responsible, family-based breeding operation specializing in exceptional-quality dogs, including lilac, blue, merle, and chocolate French bulldog puppies. Contact us today for more information.